Which Style of Breast Prostheses Should I Choose?
/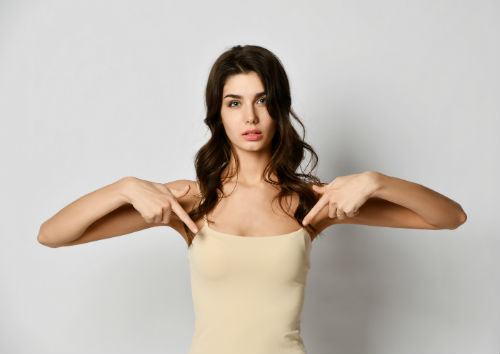 For women who choose not to undergo further surgeries for breast reconstruction after their mastectomy or lumpectomy, breast prostheses for mastectomy patients can be a great option.
Today's state-of-the-art breast prostheses allow women to choose prosthetic breast alternatives and give them a reclaimed sense of confidence and agency over their own figure.
When it comes to choosing a breast prosthesis, the options are so varied that the biggest hurdle comes in choosing which prosthetic is right for you.
The first step
Once you have decided to utilize breast forms, the very first thing to consider is your state of recovery and the right breast form material.
For women in the recovery stage, lightweight and foam forms are the best option. As their name implies, they are lighter than silicone alternatives and do not irritate sensitive scar tissue around the surgical site. They also function as "practice forms" and help women get used to the feeling of wearing prostheses every day.
Foam forms can also be permanently sewn into your favorite bralettes, sports bras, recovery bras, and leisure wear to afford comfortable balance any time.
Silicone forms, on the other hand, offer a natural weight, feel, and movement. They are designed to mimic natural breast tissue and are the most popular choice among mastectomy patients.
Silicone forms are available in most any style color, and weight to afford maximum customization that fit a variety of body types.
With silicone and weighted forms, it is particularly important to have a professional fitting at an experienced and licensed mastectomy fitter. This will ensure you have the right size, shape, alignment, and symmetry for your body and restore your body's natural balance to prevent potential physical complications, like neck pain, spinal curvature, and shoulder pain issues.
The fitting process will also allow you to test out the available products before committing.
Consider your needs
When choosing your style of breast prosthetic, ask yourself: Am I an active person? Is this prosthetic for occasional use with a favorite evening gown or daily comfort and versatility?
Today's incredible selection of prosthetics is as varied as the activities that you use them for. There are prosthetics explicitly designed for swimming, running, and even yoga.
Choosing one, two, or even three sets that will work best for any aspect of your daily life is the best strategy, and many women utilize different sets for different activities.
Choosing different specifications for breast prostheses should be brought up with your fitter during your mastectomy fitting.
Your fitter can also help you determine whether an off-the-shelf option is appropriate, or whether it might be more beneficial to have your prosthetics uniquely and personally designed.
Choose your shape
Delta or triangle shaped prosthetics offer fuller coverage, while oval and ellipsis shaped alternatives pair well with the aesthetic appeal of certain garments that have tailored cuts and hemlines. Certain garments for a night out on the town might need contoured prosthetics to match the line of the dress or shirt.
Choosing an appropriate breast prosthetic requires a lot of consideration, so bring a friend along to your fitting and talk candidly about your needs with your fitter.
Remember, your fitter is there to help support you through this process and can offer invaluable insight to help you choose a breast from that helps you regain your confidence and get back to doing the activities you enjoy.